Creamy Original Vegan Choc Truffles
Creamy Original Vegan Choc Truffles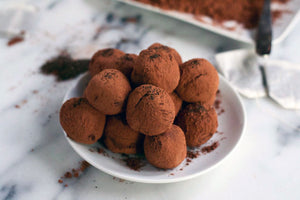 Prep. time 5 minutes | Chill for 1 approx. hour

These delicious vegan chocolate truffles make the most of our 255g Original Creamy Sheese. Perfect for your Christmas spread (but enjoyable all year round) they're a little treat that we hope you enjoy as much as we did!
Ingredients
255g Original Creamy Sheese (1 small tub)
303g Icing sugar
230g Semi-sweet chocolate (melted)
 1¾ Tea spoons vanilla essence
Ground nuts, unsweetened cocoa or toasted flaked coconut

Cooking Method
Rest 255

g Original Creamy Sheese

out of the fridge until it reaches roughly room temperature, then gradually add the icing sugar, beating until well blended.
Add the melted chocolate & vanilla and mix well.
Refrigerate for about 1hr.
Now shape the mix into truffles (about 2.5cm balls) and coat in the nuts, cocoa or coconut. Chill well before serving & enjoy!
You can also try dipping them in molten chocolate, and allow to go hard for an extra special decadent treat!
++

Original Recipe: 
https://www.buteisland.com/recipe/caramelised-onion-mushroom-cheddar-polenta-bake/